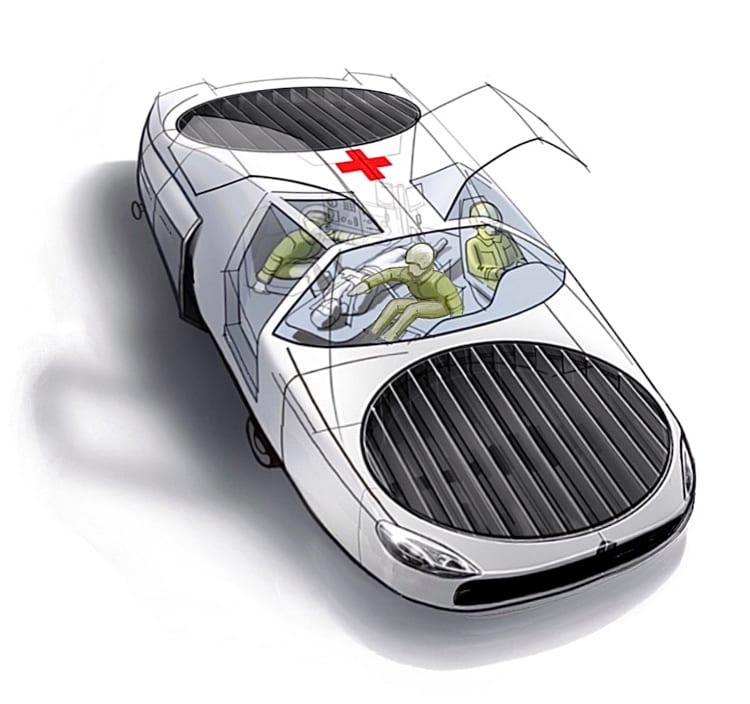 Several companies are working on eVTOL aircraft designs that could support air medical emergency response operations, including the Cityhawk pictured here being developed by Tel Aviv, Israel-based Urban Aeronautics. (Urban Aeronautics)
Advocates for electric vertical takeoff and landing (eVTOL) aircraft are looking towards emergency response as an early use case for this new technology to help build public acceptance as a precursor to widespread use as a transportation alternative in urban and suburban communities.
Though eVTOLs will be limited by the energy density of batteries and designed more for efficiency in cruise flight than hover, they may have numerous useful applications in the world of emergency medical response.
Jump Aero, founded by former Terrafugia leader Carl Dietrich, aims to reduce first response times with an eVTOL designed specifically for air medical operations that can reach speeds over 200 mph and land safely on a suburban street.
"Based on the data we have seen, it appears that Jump Aero's products could eventually help first responders save thousands of lives per year in the United States," Dietrich said in an email to Aviation Today. "In certain time-critical emergencies such as cardiac arrest, one minute of reduction in response time can represent over $1,000 in long-term care savings."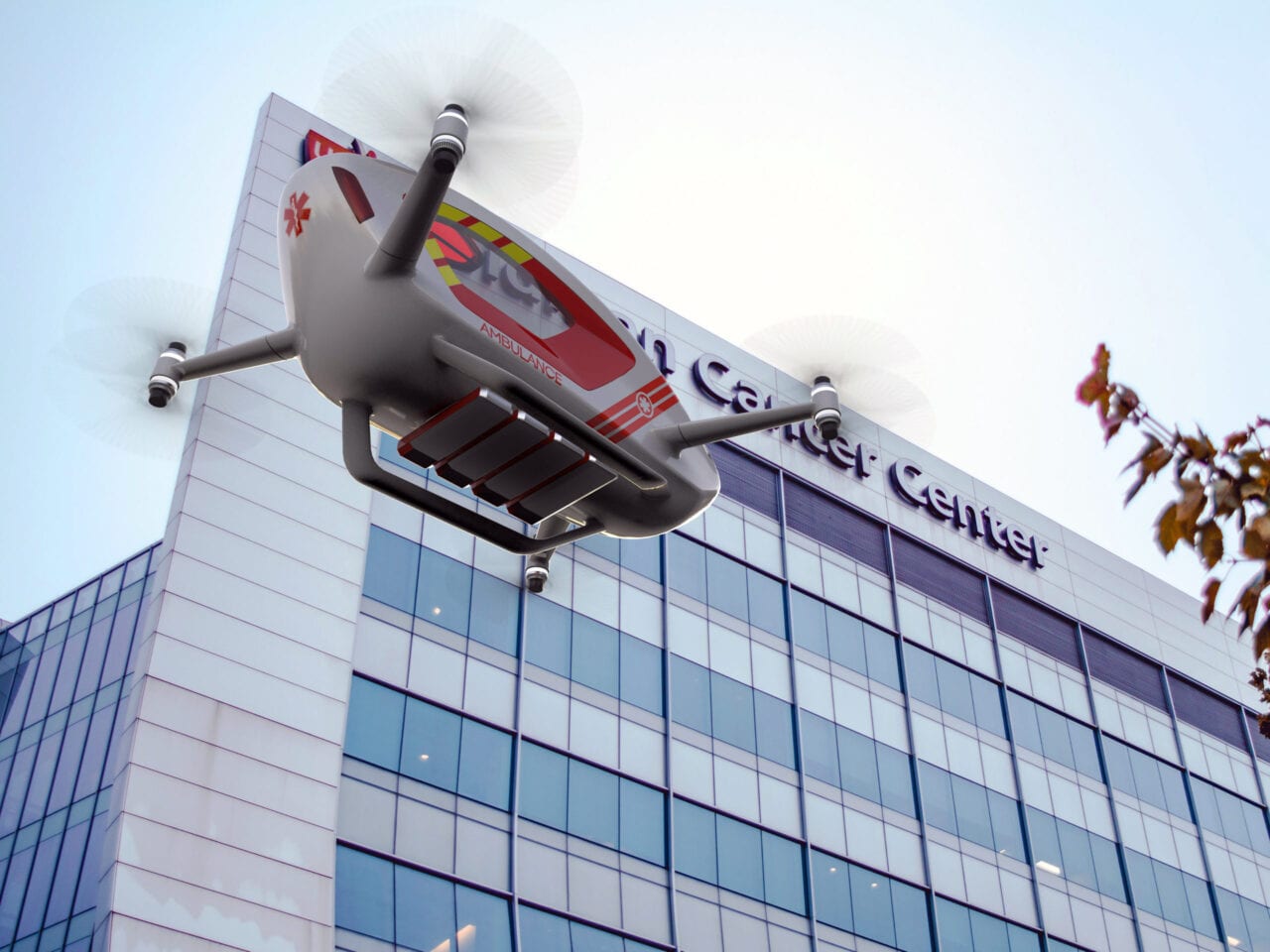 Ambular's latest design uses exposed rotors around a central cockpit, similar to EHang's 216, intended for use in urban emergency response. Another design proposed by the project moves the rotors overhead. (Ambular)
Little information has been released by the company about their planned aircraft, but according to head of business development Katerina Barilov, it will be a single-seat aircraft capable of flying a paramedic to the scene of an accident to deliver aid — not to transport the patient to a healthcare facility. Ambular, a project launched by the International Civil Aviation Organization (ICAO) in 2018, is working on an air medical eVTOL design to be open-sourced upon completion.
A presentation on Ambular's progress during the 2020 virtual Farnborough International Airshow proposed using four sets of rotors placed around a central cockpit to autonomously transport one patient and one paramedic — both to the scene and back to a medical facility. The next phase of design anticipates accommodating two paramedics and one patient.
Currently in the early phase of its second design cycle, Ambular is working with volunteer universities to conduct wind tunnel testing and airspace analysis for use of an eVTOL in urban first response applications.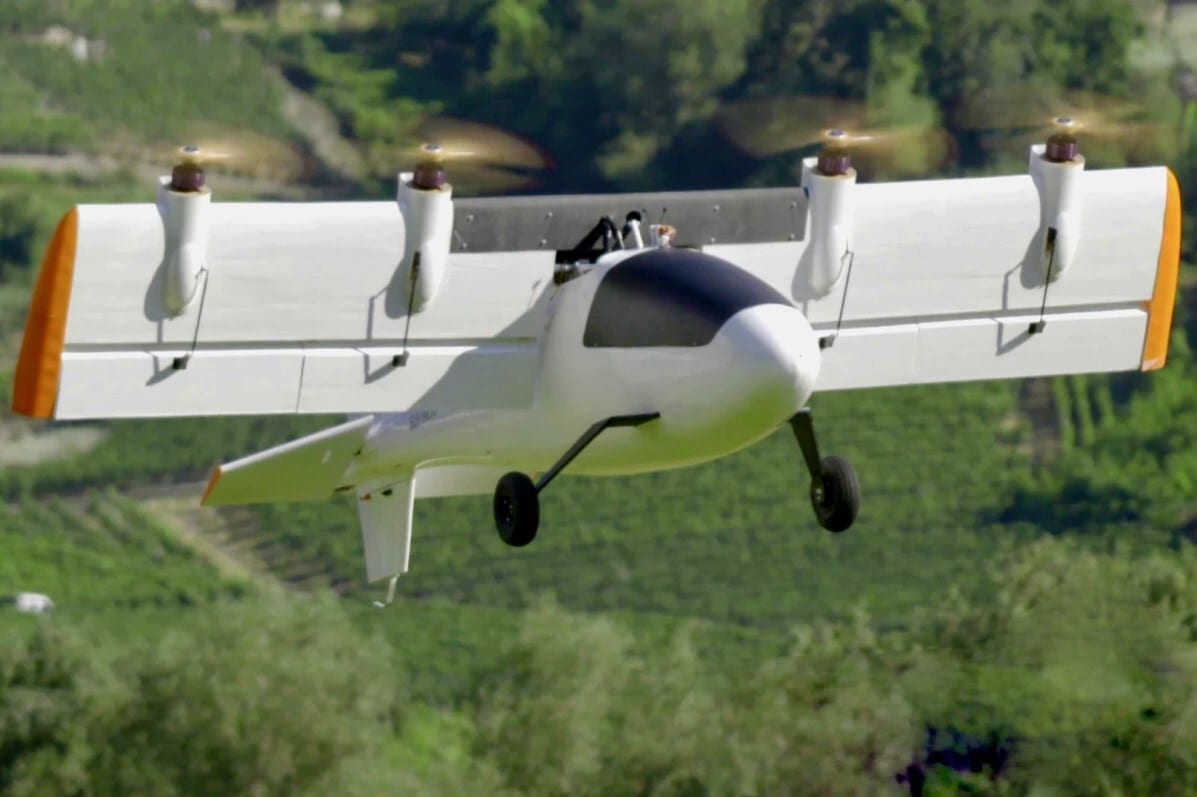 DuFour Aerospace, drawing on expertise from Solar Impulse, Kopter and other major aerospace companies, sees emergency use as an accessible, existing market application for eVTOL aircraft. (DuFour Aerospace)
Chinese eVTOL manufacturer EHang joined Ambular in August as a hardware provider, committing to contribute rotors, motors and potentially other necessary hardware to aid in the aircraft's design.
"Based on the results of those analyses, we will start finalizing the next iteration of the Ambular, which will then be the basis for a ¼-scale prototype that we hope to have ready in the next 4 to 5 years," Yuri Fattah, lead guide for the Ambular team, told AT. "At that time, we will have a clearer understanding of what other hardware will be provided to the project and by whom."
Visp, Switzerland-based Dufour Aerospace, founded by a number of software and aerospace industry veterans, revealed this summer its unmanned eVTOL prototype with more than 500 flight tests completed.  The aircraft, which bears resemblance to Bye Aerospace's electric trainer aircraft but with four propellers on a tilting wing, is a precursor to a larger manned project with five to seven seats that will be designed for the medical transport market.
"We believe we are going to build an aircraft that can take over almost 80 percent of today's helicopter operations, said Thomas Pfammatter, co-founder and CEO of Dufour and a former Air Zermatt helicopter rescue pilot. "There are a few [operations] that will still be done by helicopter, such as sling loading … if you have to rescue people on a mountain at night … but the vast majority of flights — hospital to hospital, rural to hospital, or city to city — we can do."
During a presentation to the Vertical Flight Society in September, Pfammatter estimated Dufour's product will be able to respond to incidents in Switzerland four times faster than ambulances and 1.6 times faster than helicopters. He also expects operational costs to be three times cheaper than helicopters and slightly cheaper than ambulances.
But Pfammatter's primary proposal to air medical operators is about expanding the population living within range of the Golden Hour: people who can be reached and transported to an appropriate hospital in less than an hour after sustaining a life-threatening injury.
"With our aircraft, vast areas in both developing and industrial countries can be reached within the Golden Hour," said Pfammatter. "In the United States, fifty million people don't live within that radius. In East Germany, there is a lack of emergency doctors to supply help if it's needed … these aircraft, as they will be dramatically faster and more efficient, can provide help way better and ensure more people survive."
Dufour has a prototype in the air, which is more progress than Jump Aero or Ambular has revealed, but is still years away from bringing a certified product to the air medical market.
"We're still making sure that we've done all of our homework and that what we have will really meeting the operations requirements of EMS air operators and also certifiable under SC-VTOL," said co-founder Jasmine Kent, referring to certification guidelines for VTOL aircraft released last year by the European Union Aviation Safety Agency (EASA).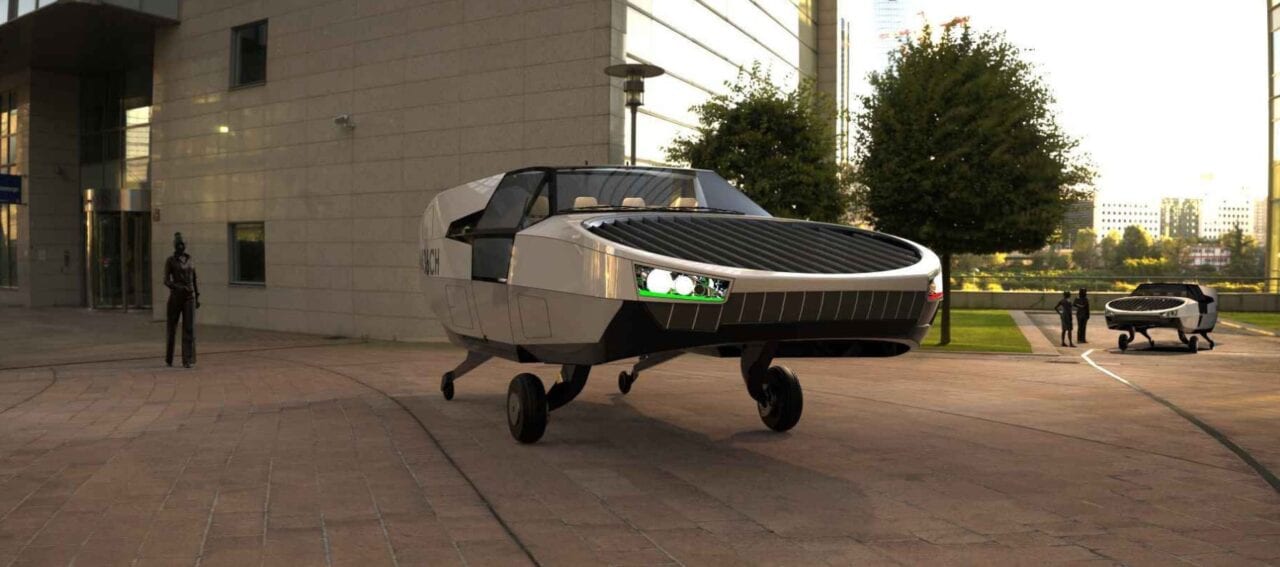 The Cityhawk is being developed by Urban Aeronautics. (Urban Aeronautics)
Rafi Yoeli, founder of Urban Aeronautics, is working on an entirely different VTOL aircraft for urban medical response, more akin to a flying car than an electric helicopter. Yoeli has been working on a compact, wingless design using internal ducted rotor since 2001, resulting in an unmanned design, Cormorant, and a six-seat manned version dubbed CityHawk.
Yoeli believes CityHawk's road-transportable, street-legal design without external rotors makes it ideal for emergency operations, particularly within a city.
"With an overhead rotor, you can't land next to the accident…you may have to land a few hundred meters or a kilometer away," Yoeli told AT. "We can land on a sidewalk and not endanger anyone because the rotors are internal to the aircraft."
In August, Urban Aeronautics announced a partnership with global EMS operator Hatzolah Air to develop, produce and market the CityHawk in collaboration with the service's air medical professionals.
"Based on our initial estimates, we foresee a potential market of at least 800 CityHawks for Hatzolah and other EMS operators, with the possibility to save thousands of lives every year," said Eli Rowe, president of Hatzolah Air. Initially to be powered by two Safran Arriel 2N turboshaft engines, Yoeli is also working with hydrogen fuel cell company HyPoint to integrate their technology into a later version of the aircraft.
He is currently talking with avionics suppliers and intends for CityHawk to be certified for single-pilot operation under instrument flight rules to enable all-weather use. A version of the unmanned Cormorant prototype has completed over two hundred test flights, according to Urban Aeronautics.
Yoeli expects to be flying a manned prototype of CityHawk in major airshows within three years, with the initial turbine-powered version ready for market use in five to six years and the hybrid-hydrogen version entering into service by 2028.
"Our purchase price will be around $1 million less than the Airbus H135, a commonly-used air medical helicopter, because of the simpler design and less complexity," Yoeli told AT. "And the turbine-powered version will be equivalent on operating costs, while the hydrogen version will cost around $200 less per hour."
With such great variance between eVTOL aircraft being designed for emergency use — and their intended purpose — it is difficult to say which designs will find a place in the market and what their impact will be.
Heidi Williams, director of air traffic services and infrastructure at the National Business Aviation Association, sees eVTOLs as providing new tools for emergency providers that are likely to help save lives under the right circumstances.
"I think eVTOL aircraft are going to play in a lot of those spaces," Williams told AT. "There's going to be an opportunity in a rural environment where the roadway structure maybe isn't as built up as it is in the city … Not every circumstance is going to require an eVTOL that maybe has a limited battery life or can't hover. But there are going to be scenarios where it makes a lot more sense." "You're not going to use a hammer for what you need a wrench to do," Williams added. "I think the same is true in using an eVTOL for first response versus a helicopter or a fixed-wing or an ambulance or a fire truck. You're going to send what is most appropriate for the job that needs to be done."
Original Link:
https://www.aviationtoday.com/2020/10/26/will-evtols-find-place-emergency-response/