In May 2014, as part of IIE's Generation Study Abroad initiative, Wake Forest committed to increasing the number of students who study abroad by aiming to achieve a 75% participation rate before the end of 2020. 
"At that time, 60% of our undergraduates were having an overseas experience," said David Taylor, assistant dean, global study away. "A 75% participation rate was an ambitious target. Today, we are thrilled to have met and surpassed our goal."
Diversity Abroad 'Seal of Inclusive Excellence'
The University has also earned a "Gold Seal of Inclusive Excellence" from Diversity Abroad. The seal is awarded based on a global equity and inclusion assessment that looks at support for underrepresented students to study abroad among participating higher education institutions.
By reducing debt for first-generation students through the University's

Magnolia Scholars Program

, students in the program are able to consider study abroad opportunities they might once have considered out of their financial reach. Two-thirds of Wake Forest's Magnolia Scholars chose to study abroad – collectively traveling nearly 240,000 round-trip miles to 16 countries and six continents.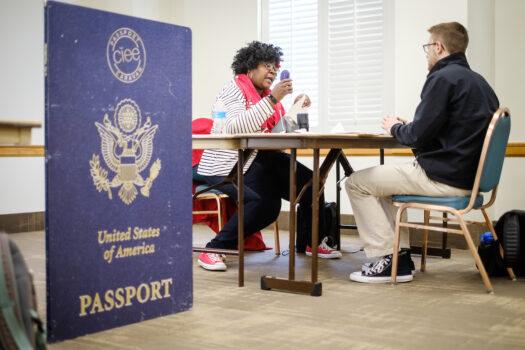 Finishing an application at the 2018 "Passport Caravan."
Wake Forest University and the Council on International Educational Exchange (CIEE) hosted a one-day "Passport Caravan" event offering nearly 100 free passports to increase the number of diverse students who study abroad by addressing cost barriers. 

The University's Community-Based Global Learning programs bring students to non-traditional locations (e.g. Cambodia, Kenya, and Thailand) and focus on ethical community engagement. Programs of this type are subsidized to ensure access for all student participants. 
Developing a Global Mindset at Home During a Pandemic
No one could have anticipated that in 2020 study abroad would be severely restricted. But two Wake Forest initiatives launched in 2016 that focus on building global mindsets on campus are broadening perspectives during this challenging pandemic time. 
The

Global Village Living & Learning Community

is a Wake Forest residential community for globally-minded students committed to exploring global themes and fostering international engagement with the broader Wake Forest community.

The

Global Laureates Academy

is a network of faculty, staff and students who explore global events, values and practices from multiple cultural perspectives. It focuses on how individual perspectives and experiences influence understanding of other cultures. 
"This year, programming launched nearly five years ago to strengthen multicultural perspectives on campus has proven to be critical in carrying out the University's mission to develop global mindsets at home," said Associate Provost for Global Affairs Kline Harrison.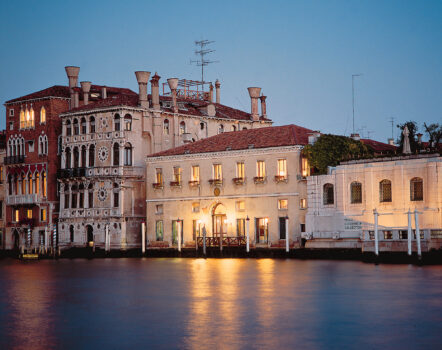 Casa Artom, the Wake Forest residence in Venice, Italy.
Virtual Study Abroad
Faculty partners teaching in Wake Forest's study abroad programs have created opportunities for remote study abroad to keep students engaged globally. At Wake Forest's Casa Artom, host to the University's program in Venice, onsite director and faculty member Roberta Cimarosti has led collaborative classes – bringing Italian and American students together.
Junior finance major Olivia De Rocco enrolled in the virtual Venice course, which for this pandemic year  fulfills a study abroad requirement for her Global Trade and Commerce Studies minor.
"The virtual international education experience has gone much more smoothly than I ever expected," said De Rocco. I have been immersed in the world of Venice, while also meeting and networking with Italian students. Our professor established bonds between the students by creating partnerships on all readings and projects throughout the course that has enabled the group to forge great connections."
Wake Forest academic partners in Denmark and Sweden are supporting Wake Forest faculty members at home who want to integrate global perspectives into the classroom by offering guest lectures, panel discussions and virtual field studies. Examples of topics include climate change, European politics, Scandinavian cities and more.
About International Education Week
International Education Week (IEW), November 16-20, 2020, is an opportunity to celebrate the benefits of international education and exchange across the U.S. and worldwide. This joint initiative of the U.S. Department of State and the U.S. Department of Education promotes programs that prepare Americans for a global environment. A complete list of Wake Forest's IEW events and activities can be found here.
Original Link:
https://news.wfu.edu/2020/11/16/wake-forest-earns-national-recognition-for-global-campus-commitment/